__________________________________________________________________
Reflexverlag from May 2018 on the subject of widespread diseases
__________________________________________________________________
Aerztezeitung February, 7th 2018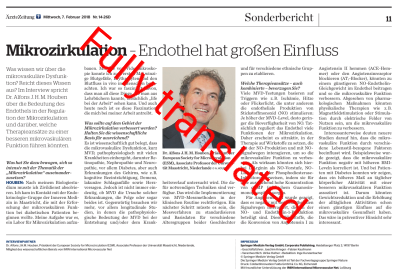 __________________________________________________________________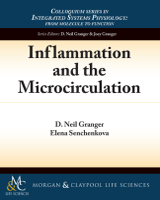 __________________________________________________________________
Medical journal of 18 October 2017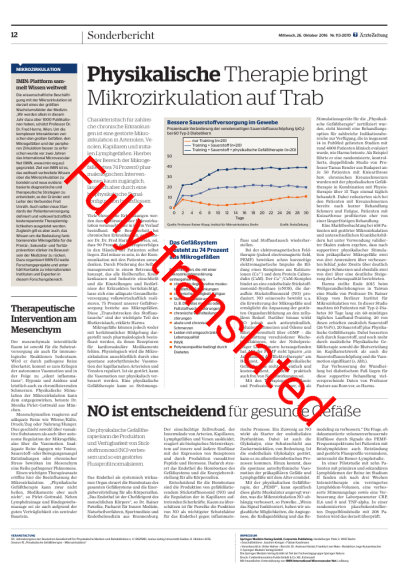 __________________________________________________________________
International network: foundation overdue

Professor Karlheinz Schmidt, Tübingen, and Dr. Rainer-Christian Klopp, Head of the Institute for Microcirculation, Bernau bei Berlin, in an interview on the significance of physical vascular therapy.
Why does it make sense to establish a network on the topic of physical vascular therapy?
SCHMIDT: By establishing a network, we may succeed in attracting the attention of the scientific community to innovative therapeutic possibilities and enable their rapid implementation for the benefit of the patients affected.
KLOPP: Previous research on the treatment of regulatory dysfunctioning of organ circulation concentrated mostly on medicinal therapies and primarily with influencing microcirculatory processes. However, it has been recognized for some time that many diseases are either due to dysfunctioning of the microcirculation or are accompanied by it. There are currently only limited options available for the effective treatment of microcirculatory dysfunctions. This is why researchers must test if, in addition to medicinal therapies, it is possible to physically stimulate inadequate organ blood circulation in a therapeutically effective way, so that the body's own regulatory mechanisms – primarily inadequate arteriolar vasomotion processes – can rectify the dysfunction as far as possible.
Which role does international networking play in this scenario?
SCHMIDT: Just as in the business world, science is going through a rapid globalization process thanks to fast data interchanges via the Internet. International networking is therefore indispensable.
KLOPP: An international exchange of ideas, critical tests and analysis of research results by different testing groups are vital prerequisites for increasing our levels of knowledge. Physical vascular therapy has made it possible for a new therapy option to be opened up, which should prove itself in international scientific discourse, and can only be further validated in this way in a manner relevant to practice. A suitable international platform for the exchange of scientific knowledge in this area has not been available until now. Its foundation is overdue.
What motivates you to get involved with "physical vascular therapy" and to establish a network?
SCHMIDT: As joint inventor of magnetic resonance imaging, I am very much interested in physical processes in diagnostics and therapy. In addition, the provision of cells, tissue and organs with oxygen and nutrients by an intact vascular system is very important for health and performance. System approaches are urgently needed in medicine as a counterweight to the currently favored reductionism.
KLOPP: Just like any other passionate researcher, I am seeking an international exchange of knowledge for my own study results. I look forward to strengthening this dialog in future as part of the "International Network on Physical Vascular Therapy".