The penis is the divining rod of the heart.
Interview with Dr. Michael Blessing, specialist for urology and men's medicine in Bad Wörishofen.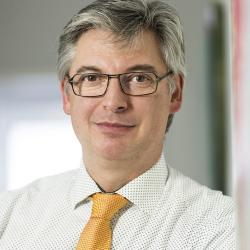 "The penis is the heart's divining rod"
Erectile dysfunction can be an early indicator of cardiovascular problems that will often occur three to five years later. In many cases, it is a sign of impaired microcirculation. Dr. Michael Blessing, specialist for urology and men's health in Bad Wörishofen and member of the scientific advisory council IMIN International Microvascular Net, explains how this happens and what can be done against erectile dysfunction.
Dr. Blessing, what are microcirculatory impairments?
Microcirculation refers to vessels with a diameter of less than 200 micrometers. This includes the entire area around these vessels as well as the individual cells of the organs. If the blood circulation in the area of these microvessels is disturbed, we call it a microcirculatory impairment. There is still no fully conclusive research on what is behind this. However, it is known that stress, poor nutrition, lack of exercise and environmental toxins can be triggers.
What happens in the area where microcirculatory impairments occur?
When the blood circulation is impaired, less oxygen, nutrients and vitamins are transported into the cells. The lack of oxygen also leads to an increase in metabolic waste products. When the flow is impaired, these waste products cannot be discharged, which triggers inflammatory reactions. If this impairment occurs over five to ten years, it can lead to a range of disorders.
Which disorders?
We now know that about 80 percent of all known disorders are associated with microcirculatory impairment. Examples include high blood pressure, heart attacks and, for men, microcirculatory disorders in the pelvis, which can lead to both erectile dysfunction and chronic pelvic pain.
When should men pay attention to in cases of erectile dysfunction?
Particularly when the erection is not hard. Impaired blood circulation can be the direct cause. Today, we know that when there is a vascular disorder in this area, the same problem can occur in the heart three to five years later, which increases the risk of a heart attack.
What do you advise for getting erectile dysfunction under control?
For potency disorders, I recommend going to a urologist. It's important to not immediately take erection-enhancing supplements, but instead to investigate the causes by checking the blood circulation in the penis with ultrasound. If the disorder is discovered in time, changes in lifestyle can remedy blood circulation in the micro- and macrovessels.
What are the therapeutic options?
Since conventional medicine offers no effective methods, I recommend a treatment consisting of physical vascular therapy and Kneipp therapy over the course of several weeks. This can also be used in a targeted, local way inside the pelvis and at the root of the penis to improve the circulation.
__________________________________________________________________
microcirculatory disturbances
Source: Reflex Verlag

"Microcirculation and occupational burnout"
Dr. Monika Pirlet-Gottwald is a physician for naturopathy, nutritional medicine and occupational burnout counseling in Munich.
What makes women experience occupational burnout?
The demands of balancing family, career and personal life are very high. Oftentimes we are overwhelmed. There are no breaks, there is hardly any time for eating during the day, and we are forced to catch up with everything in the evening: too much, too difficult, too fast! It stays with us in the pit of our stomach through the night, it stresses the nerves, it disturbs sleep and regeneration.
What role does microcirculation play?
A big one – because it affects every cell in the body. Chronic stress restricts the blood supply in the network of small vessels, the microcirculation. The cells get too little oxygen, which our body needs in order to gain energy from nutrients. If there's a lack of oxygen, there's a lack of energy. Metabolic endproducts remain in the cells and tissues, causing gradual overacidification and inflammation of the vessels. The initial symptoms are stiff joints and aching muscles. The waste is not disposed of, the cells cannot regenerate, and they "burn out." A vicious circle!
What stimulates microcirculation?
Regular light movement - no sore muscles! Warmth, relaxation techniques, oxygen therapies, physical vascular therapy. The cells once more get enough oxygen, and we become more vital. Nutrition plays an important role: eat slowly and chew a lot! Small, light, balanced meals of egg, fish, potatoes, rice and vegetables. Fresh fruit, mild vegetable juice, cheese as snacks, lunch as the main meal: The night becomes more restful, and the day becomes easier to handle.
__________________________________________________________________
Interview in the Medical Association of Madrid
occasion 1st International Congress on Nutrition and Orthomolecular Medicine,
Madrid, 28 to 30 April 2016

Dr. med. univ. Ralph Burger
Scientific Advisory Board IMIN
&
Dr. Jorge Cubrias. Chairman of the Spanish Society of Nutrition and Orthomolecular Medicine SENMO

__________________________________________________________
Interview with Prof. Dr. Dr. Karlheinz Schmidt/Dr. Wedekind/Ärztezeitung
on the occasion of the DGIM IMIN press conference in May 2014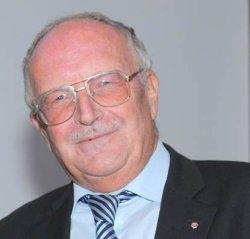 Prof. Schmidt appears as a scientific advisor at International Prevention Organization health events, such as conferences.
-

In your opinion, why does it make sense to establish a network on the topic of "physical vascular therapy"?
Schmidt: Establishing a task force would serve to focus the scientific community's attention on innovative therapy approaches and enable them to be implemented quickly as a "translational medicine" to benefit affected patients.
-

What role does international networking play?
Schmidt: Much like business, medicine is currently undergoing rapid globalization thanks to the rapid exchange of information via the Internet. International networking is therefore vital.
-
And, finally, a question regarding your motivation: Why are you committed to the topic of "physical vascular therapy" and the creation of a network?

Schmidt:

As the co-inventor of magnetic resonance imagining, physical procedures for diagnosis and treatment are very important to me. And, in any case, the supply of oxygen and nutrients to cells, tissues and organs via an intact vascular system is vital for health and performance. Systematic approaches are important in medicine as a counterpart to the current trend towards reductionism.