Microcirculation as the focus of public debate
Berlin/Mainz. 12/30/2014 Two evenings of discussions took place, one at Mainz City Hall and one at the Parliamentary Society in Berlin. Players and decision-makers from the areas of health policy and medicine, as well as the specialist public, were invited to both.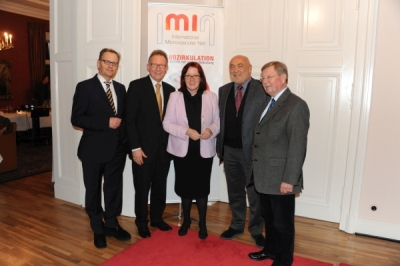 Conversation in the Parliamentary Association

in Berlin: Dr. med. Christian Moerchel,

Chairman of the town hall meetings

, Erwin Rüddel,

Member of the German Bundestag

, Ingrid Fischbach,
Parliamentary State Secretary to the Federal Minister for Health

, Peter Gleim, Bemer Int. AG, Dr. phil. Michael Moerchel, Presenter (v.l.n.r.).
Quotes from the City Hall discussions: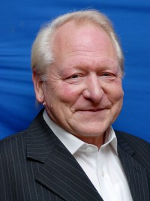 Prof. Dr. Rainer Klopp,
Head of the Institute for Microcirculation in Berlin, reported research results showing that microcirculation can be influenced by physical stimuli.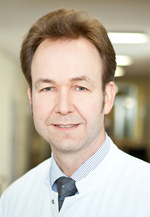 Prof. Knut Kröger,
Director of Angiology at the Krefeld Helios Clinic, noted that the number of chronic illnesses such as diabetes has increased significantly. Improved therapeutic care means that people can reach an advanced age, which is often affected by chronic diseases. However, since only large vessels can usually be treated with recanalization surgery, there is a significant demand for a method for the specific treatment of microcirculation.
Should studies demonstrate the effectiveness of the treatment, this would provide a sorely needed treatment option for vascular medicine.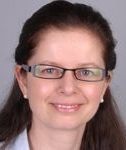 Mainz angiologist Prof. Christine Espinola-Klein
noted that she considered Dr. Klopp's basic data to be convincing, but that a blind study should be used to show that physical treatment is even more effective.
closed the discussion at Mainz City Hall with a question to politicians: "What can politicians contribute to medical measures and how can the paradigm be shifted so that there is support for complementary treatments in addition to surgical intervention?"
State parliament delegate Dr. Enders answered: "Health policy can be compared to a high-wire act. Means are often limited and data must be verifiable. Nevertheless, politics is establishing the framework for the treatment and prevention of chronic illnesses."