Microvascular disease needs microvascular solutions
– Scientific Symposium at the Institute for Microcirculation Berlin/Buch -
26. to 27.10.18
Under this title a top-class and international scientific symposium took place on 26/27 October 2018.
The reason for this was the opening of the "Institute for Microcirculation" by Prof. Dr. med. Rainer Klopp in Berlin/Buch.
For the opening Prof. Klopp guided the participants through the institute. The extraordinarily modern and competent equipment was impressive, enabling completely new possibilities in anamnesis, diagnostics and thus - continuing - in the therapy of the highly complex field of "microcirculation".
Supported by these modern possibilities and many years of knowledge, the thematic structure was also geared to the highest degree to the scientifically competent presentation of current possibilities.
The participants from the universities of Maastricht, Halle (Saale), Berlin and Regensburg as well as partners from professional societies discussed various possibilities and potentials in modern medicine.
The arc was spanned from the status assessment over the development of the knowledge processes up to the current state of knowledge.
An impressive initial presentation by PD Dr. Taeger presented the flooding of the subcutaneous tissue structures by injection via the lymphatic system.
This was followed by a profound discussion in which the importance of modern medicine and the great necessity of current measurement methods were put into focus. The same importance was attached to the discussion on the evaluation of imaging methods.
In this discussion it became clear - and confirmed by all scientists - the necessity to generate research funds in order to transfer the existing great possibilities into efficient forms of therapy in the near future. The existing therapeutic possibilities were also intensively discussed, whereby physical vascular therapy represents an interesting starting point which - in combination with indication-specific therapeutic supplements - represents an excellent prognosis for the future.
The different measuring methods were also examined - and fortunately a number of interesting methods are available.
As a conclusion, it can be concluded that the construction of the IMIN network offers the best conditions for scientific discussion and will continue the further deepening of the topic with competent events.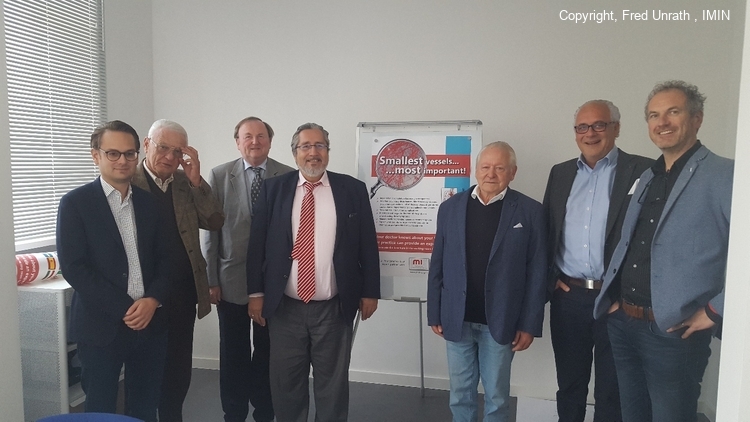 The participants of the Scientific Symposium from left to right:
PD. Dr. Christian Taeger, Plastische Chirurgie Universitätsklinikum Regensburg

Eitel J. Vida, IPO - International Prevention Organization
Prof. Dr. med. Karl Werdan, Kardiologe und internistischer Intensivmediziner,
Universitätsklinikum Halle (Saale)

Prof. Dr. Dr. med. Ralf U. Peter, Deutsche Venenliga
Prof. Dr. med. Rainer Klopp, Institut für Mikrozirkulation Berlin/Buch
Dr. med. univ. Ralph Burger, IMIN - International Microvascular Net
Prof. Dr. Alfons J. H. M. Houben, European Society for Microcirculation
Not in the picture Prof. Dr. Müller-Werdan and Fred Unrath.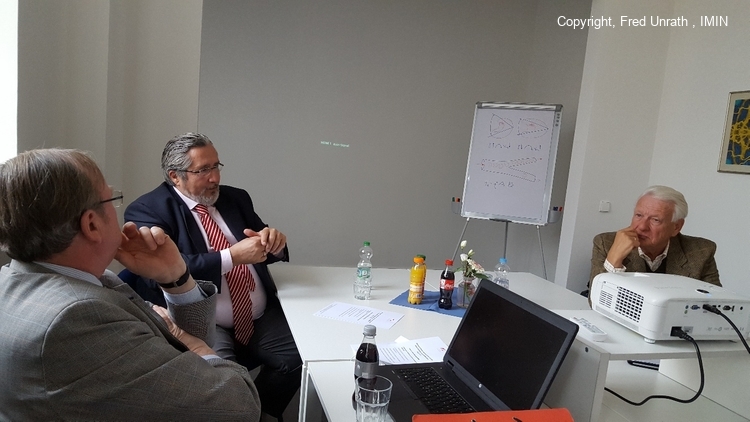 In conversation from left to right: Prof. Dr. med. Karl Werdan, Prof. Dr. Dr. med. Ralf U. Peter und Eitel J. Vida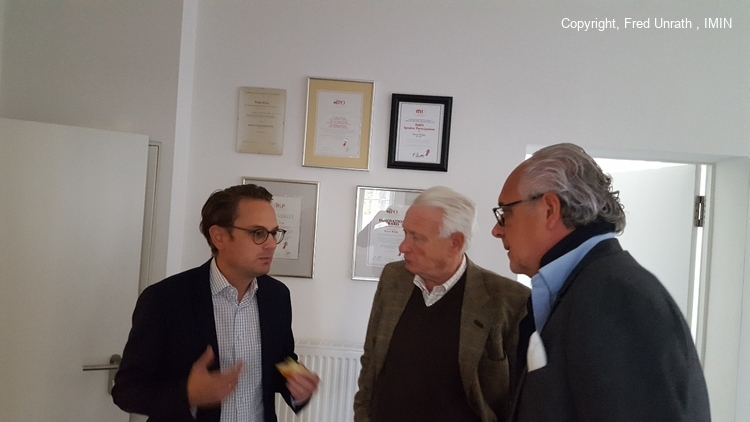 From left to right: PD. Dr. Christian Taeger, Eitel J. Vida und Dr. med. univ. Ralph Burger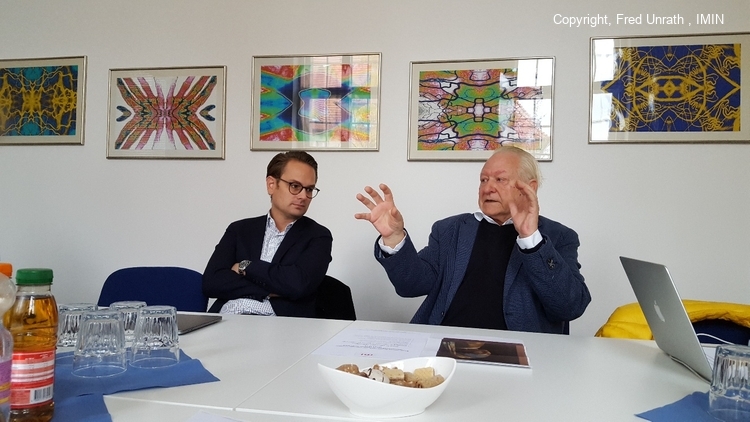 From left to right: PD. Dr. Christian Taeger and Prof. Dr. med. Rainer Klopp.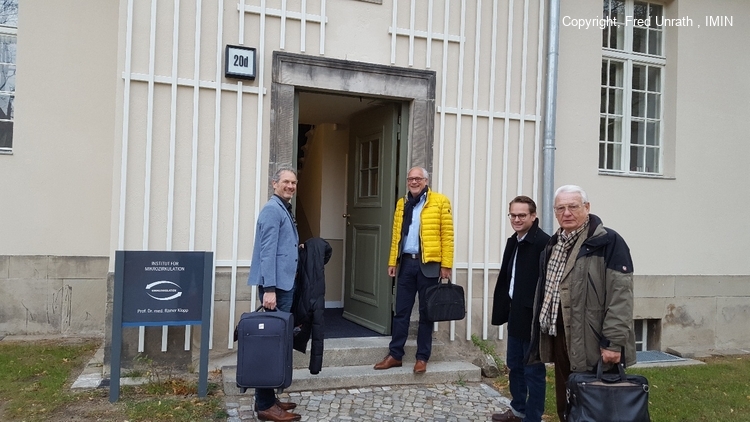 Institute for Microcirculation in New Rooms